A guide to all the GW2 Dead Drop locations for the Secret Contact Living Story achievement introduced with the Flame and Frost: The Razing patch.
How to Start
---
Talk to Agent Brandubh in Black Citadel to start this achievement. He can be found near Refugee's Camp near Memorial Waypoint.
He will send you with a list of locations and Order Cryptotranslator to decipher the Mysterious Devices located in the locations he mentioned.
Diessa Plateau
---
1. Rocky Outcrop north of the field in Gram Hills, near ore
2. Tall Plateau in Gram Hills, near Harpy nest
3. Pile of Rocks outside of Silex Castrum
4. Fallen tree north of the Caravan Wreckage
5. Base of a fissure in the rocky field north of Bovarin Estate
6. By the snowing tree behind Butcher's Yard
Wayfayer Foothills (images and map  provided by Kejoca)
---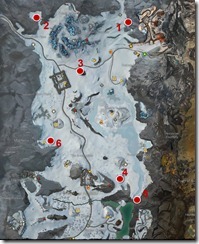 1. Base of a steam vent in northeast Solitude Haven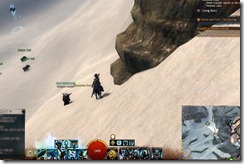 2. Icy meadow north of Dawnrise Pass
3. Base of a larger boulder east of Crossroads haven
4. Icy Rocks south of Vendrake's Homstead
5. End of Frusenfell Creek, at the frozen waterfall
6. Small grove east of Moleberia
Rewards
---
You get a mail after you competed all 12 Dead Drops. This mail will give you 2 Encrypted Thank-You Letter (5000 karma each) and 1 Letter of Commendation that give your guild 400 influence.
The Secret Contact achievement is worth 15 achievement points, which is pretty neat for the time spent.