ESO Creating Update 3 Identity and Dyes
New Blogpost went up on the ESO official site detailing the creation of update 3.
Update 3 introduces new ways for you and your guild to stand out. Learn how these features came to be.
The importance of customizing your character can't be overstated. Watching a character come together is something we love, too, and it goes far beyond just creating it in ESO. You keep making choices that shape your character's identity as you play—what skills will you use? What racial styles do you like the most? What choice will you make when confronted with a dilemma in a quest? There are already many ways to develop your ESO character, but we know there's always room for more expression. Update 3 brings more customization to your look and your guild, and today we're diving into how we created these new features.
DYES
When Update 3 launches, you'll be able to obtain armor dyes and create the look you want by applying up to three colors to each of your armor pieces. Dyes are unlocked by completing achievements throughout the game, and it's completely free to change your look at any of the new dye stations you'll find in the world. We're launching with a selection of more than 200 colors total, and there's still room to grow.
At first glance, something like a dye system might seem relatively simple, but an enormous amount of planning, heated debate, and implementation work went into ESO's. We wanted to make the system special—something that would give you a sense of accomplishment along with more options, but also something that would feel rewarding no matter what type of gameplay you love the most.
One of the biggest decisions we had to make was how you'd obtain dyes. This was a topic that prompted spirited discussion. We considered several designs for the system that would meet our goals of giving you new options and emphasizing your accomplishments. We also wanted to limit friction in the system, meaning we wanted you to feel free to change your dyes without having to scour guild stores or farm enemies to get enough of them to dye your whole set, for instance. In the end, we choose to tie the system to achievements. Once you unlock a color, it's yours to use as often as you want (provided you're at a dye station).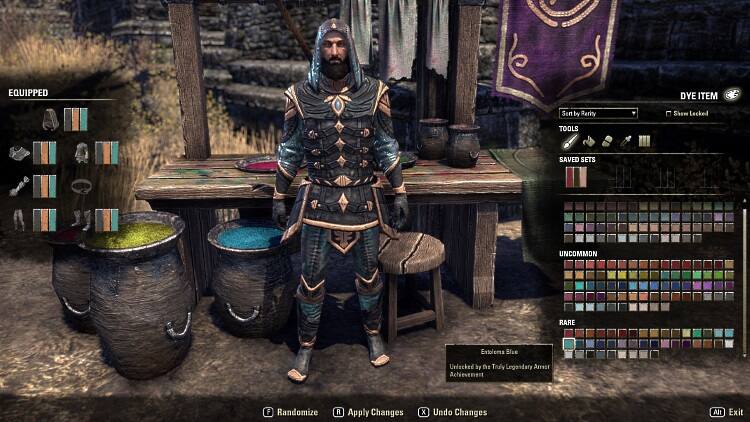 The decision was just the beginning. It defined the work we'd need to do and the issues we'd have to tackle. ESO is a game that should feel rewarding no matter what your playstyle is. We don't want you to feel punished, and that meant making sure everyone had access to a full range of colors, and that dyes could be unlocked at a good pace throughout a character's career. We looked at our existing achievements and one thing was clear: we needed more. To make sure that all types of players had a good, diverse palette within reach, we'd have to add new achievements to support each level range and playstyle. So we did. We introduced around 40 new achievements to help us spread dyes throughout the game—horizontally across systems like dungeons, crafting, and exploring and vertically through the levels and Veteran Ranks.
Color selection had to be considered carefully, too. There were discussions about what colors we should choose, how bright and saturated they should be, where to distribute which color, and how much we needed to consider their impact on the visual landscape of the game. A frequently-heard comment was, "Well what if they wear all hot pink?" At the end of the day, we wanted to provide as many options as we could, so we selected a broad range of colors. While we picked colors that fit into the overall artistic scheme of the game for the most part, you'll find plenty of standout shades among them. We want you to choose your look, whether you prefer subtle hues or bold visual statements.
Dyes also needed to be indicative of your character's accomplishments. We created a set of special rare colors and tied them to particularly difficult or pivotal achievements. In our dye system, most of the dyes respect the material they're applied to (which is something quite special in itself among dye systems). When you apply one to leather, for instance, the armor retains the look of that material. The rare dyes, the iridescent shades, can affect the material and have a special highlight color. That means they can apply effects like a metallic sheen, and that they shine with a second color that's different from their base color—imagine a beetle's shell or a raven's feather, for instance. Like the rest of the dyes, iridescent colors are spread across many game systems, from the main quest to PvP in Cyrodiil to crafting. When you wear one, people will notice.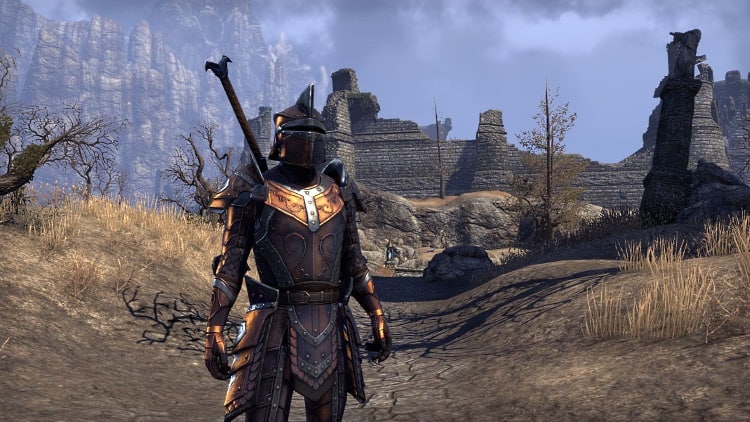 We found that the psychology of rare dyes was noteworthy. During development, we made a conscious decision to make what we thought was the most desirable black relatively easy to obtain. We knew black would be a popular color, and we chose not to make it hard to get. The artists designated one of our nine black dyes as the "best" and distributed the color, which was called Noxiphilic Black, to the achievement for becoming a vampire. Another of the shades was given to a tough Trials achievement. When we went into testing for the system, the feedback was clear: some testers were unhappy that the "best" black (the one we thought would actually be less desirable) was tied to a difficult Trials achievement. The effect of rarity on desirability was fascinating. While there will be some dyes that are quite hard to obtain, we want to emphasize that our goal is to make a full palette available to each playstyle, not to restrict every shade of desirable colors to the hardest tasks.
Associating dyes with achievements presented its own challenges, but it opened up some fun opportunities for us, too. For instance, all of the dyes are thematically related to their achievement, in name and color (where it's possible). When you join the Mages Guild, you'll unlock the blue color that Mages Guild NPCs wear. When you craft a legendary item and affix a legendary glyph you created to it, you'll unlock a gold color. This context and level of detail is something we strive for in all our systems.
Want a demonstration of the dye system's flexibility? Check out the screenshots from our internal dye contest in the recent Road Ahead article!
GUILD CUSTOMIZATIONS AND TRADERS
Personal expression is great, and the dye system expands it significantly, but guilds have their own identities, too, and they'll be able to show them even more in Update 3. We're introducing new customizable guild ranks (and icons you can choose for each rank) and permissions, tabards that your guild leader can design, and traders scattered throughout Tamriel that guilds can bid on to sell goods from their guild stores to the public.
Your guild's heraldry gives you and your guildmates the ability to show off your guild more than ever before. When you charge into battle in Cyrodiil all wearing your tabards, the enemy (and your allies) will notice.  A guild leader can use any of the available colors, tabard shapes, and crests when making a tabard; there's no need to unlock any of them. The number of combinations you can create with these options is massive, so if you want to stand out, you can. The crests range from new iconography to lore-based options like the Daedric Prince emblems, the Aedric symbols, and many more.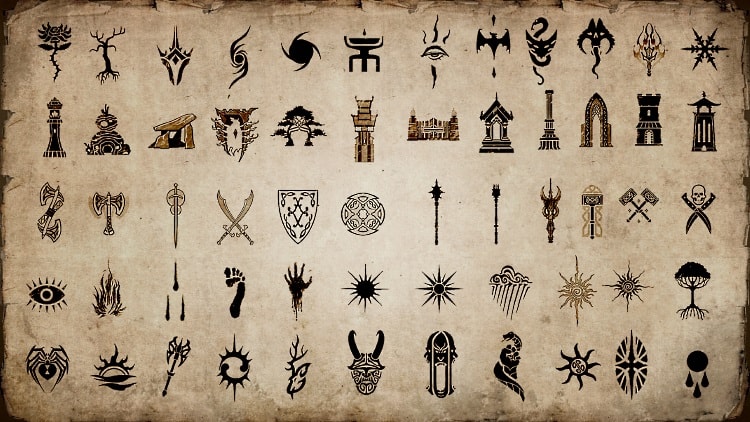 Guild traders from the Gold Coast Trading Company will offer another new way to get your guild out there. More than 120 traders will be distributed throughout Tamriel. They'll be located conveniently in places you'd expect to find traders—major cities and smaller centers of civilization. Every week, your guild can choose one to bid on. If you win, the trader will don your guild's tabard and begin selling goods from your guild store to the public. This gives your guild a sense of place in the world, and will expose it to more players than ever before. Every player on your megaserver will see your trader and your guild's name at that location, and your guild will receive a cut of every sale, making having a trader very attractive.
There were, of course, plenty of development decisions to make for guild traders, too. We had to choose good locations that were still convenient to make sure that they'd be accessible. Most of them are located near a Wayshrine, and in one instance (Markarth), we actually moved a previously-inconvenient Wayshrine to a better location to make player access to the town and traders easier. We also had to determine what bidding process we'd use. We didn't want guilds to feel like they needed to camp and watch bids from minute to minute, so we elected to use a blind bidding process. Your guild can only bid on one trader per week, and you won't see the bids from other guilds. This means that bidding wars will play out over weeks and months instead of minute-to-minute. This was another difficult choice that saw lots of internal debate.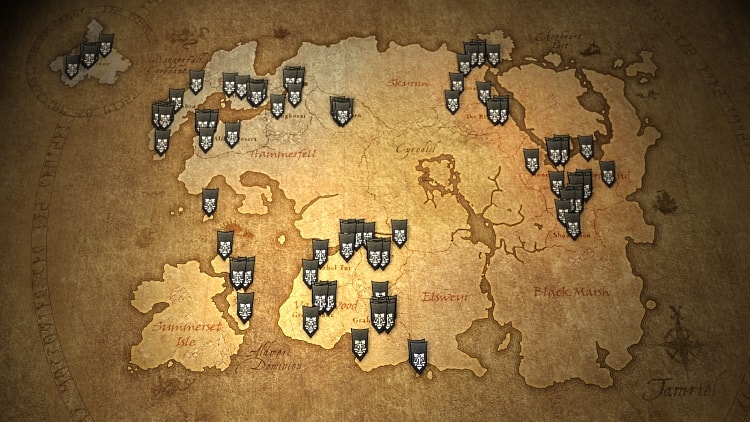 The trader system offers opportunities for inter-guild competition, incentive to stock up your guild's store, a new stream of profit, and a chance for guilds to establish themselves in the world. We're excited to see how the traders are received.
ROOM TO GROW
All of these systems have multiple opportunities to expand, and we want to know what you think works, what doesn't work, and what you want to see from them all in the future. Based on how you end up using these systems and what you tell us about your experience, we'll work to make them even better and more fun. Just like with any other systems, we've had to make some tough decisions. We love games just like you, and we feel and discuss options as passionately as you do when we have to make a choice. We can't wait for you to get your hands on these new features and tell us what you think.
We hope you enjoyed this look at how we're expanding personal and guild identity and options in Update 3. Join us for the next Creating ESO for another look behind the scenes.
Source: http://www.elderscrollsonline.com/en-us/news/post/2014/07/22/creating-eso-identity-and-update-3