GW2 Ready Up Livestream Notes with upcoming skill and balance changes. These changes will be live on June 23. Only four classes are covered due to Twitch outage but rest will be up later on youtube and here.
[toc]
Condition Scaling
Base condition damage reduced but you will see more damage if you have over 700 condition damage.
New stack limit for conditions is 1500. This cap is only for damaging conditions that stack in intensity.
Epidemic will transfer up to 25 stacks of each condition.
Vulnerability now increase condition damage as well by 1% per stack up to 25 stacks.
Bleeding 2+(0.3*Level)+(0.075*Condition Damage)
Burning 7.5+(1.55*Level)+(0.155*Condition Damage)
Confusion:

New damage over time effect: 2 +(0.3*Level) + (0.04*Condition Damage)
New trigger damage: 3.5+(0.575*Level)+(0.0625*Condition Damage)

Poison 3.5 + (0.375*level)+(0.06*Condition Damage)
Torment

New damage over time: 1.5 +(0.225*Level)+(0.055*Condition Damage)
New damage while moving: 3+(0.45*Level)+(0.11*Condition Damage)
Boon/Condition Conversion
Boon to Condition and Condition to Boon conversion has been standardized and its functionality changed. Skills which convert boons and conditions now randomly select from all boons and conditions on the target instead of taking the last applied.
Elementalist Changes
General Changes
Fire Trait
Air Trait
Earth Trait Changes
Water Trait Changes
Arcane Trait Changes
Warrior Changes
General Changes
Strength
Arms
Defense
Discipline
Tactics
Minor
Determined Revival – Gain toughness while reviving an ally.
Reviver's Might – Grant might to nearby allies when you revive someone.
Inspiring's Presence – Might you apply grant 10 healing power per stack.
Adept
Leg Specialist – Immobilize a target when you cripple them with a skill.
Quick Breathing – Reduce 20% recharge on warhorn skills. Warhorn skills remove 1 condition.
Empowered – Deal 1% increased damage for each boon on you.
Master
Shrug it Off – Use "Shake it Off" automatically when you have at least one condition on you.
Burning Arrows – Dual shot causes 2 stacks burning for 1s and Longbow skills recharge 20% faster.
Empower Allies – Increase power for nearby allies.
Grandmaster
Powerful Synergy – When you activate a leap combo finisher it activates twice.
Vigorous Shouts – Shouts heal allies and grant adrenaline. Shouts recharge 20% faster,
Phalanx Strength – When you grant yourself might, grant it to nearby allies as well (1 stack for 6s)
Engineer Changes
General Changes
F5 skill is Elixir X
Med Kit Changes
Mortar Kit Changes (1500 range)
Supply Crate
Supply Crate is now a turret, with turret traits affecting it and you can now overcharge it. Since you have 3 turrets, you can overcharge them and get 3 blast finishers.
It has its healing component removed and added to the F5 skill (Med Pack Drop).
Explosive Trait Changes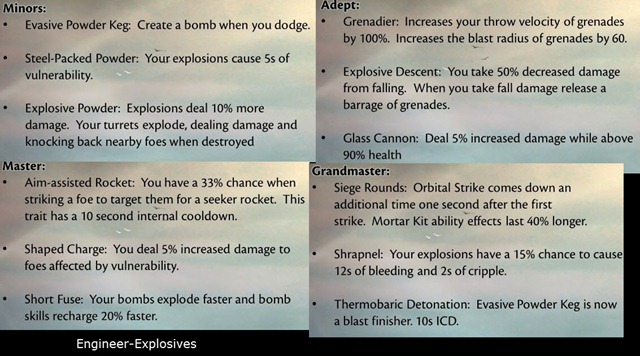 Firearms Trait Changes
Invention Trait Changes
Alchemy Trait Changes
Tools Trait Changes
Ranger Changes
General Changes
Longbow is now 1500 range by default
Marksmanship
Skirmishing
Wilderness Survival
Nature Magic
Beast Mastery