SWTOR Uprising Overview Livestream notes and coverage.
Youtube Mirror
[youtube=https://www.youtube.com/watch?v=mY8I7hS927g&w=448&h=252&hd=1]
Agenda
Community Topics
Uprisings
Uprisings and Endgame
Stream/Blog Plan
Community Topics
Catch up mechanics for gearing – crafting. If you need gear for another discipline or need to help catch up in gearing you can craft gear. The crafted gear is not the highest level of gear but it is quite high and let you catch up.
They are going to post the details of crafted gear either today or tomorrow morning. Including details on where to get schematics, bound/unbound etc. Higher level crafted gear require schematics/materials that drops from the hardest content in the game. Set bonuses will come solely from Galactic Command and not available from crafting.
Cartel Market Passes – You can refund the passes when early access for KOTET starts. They are going to give you full cartel coin value for them regardless of how you got them from. Passes in guild banks need to be taken out of the guild bank before 5.0 early access starts or you won't get the refund.
Commendation conversion rates – Going to post the exact conversion rates tomorrow morning.
F2P players can't level up to level 70, they can still access the old flashpoints and content but no Galactic Command or Uprisings for them.
It is their intention you will get every companion back eventually. KOTFE's story feels a bit stretched out and the choices didn't seem to matter so for KOTET they are really focusing on this.
Uprisings
Accessible through Galactic Command at max level. Don't need to finish story, just need to reach level 70. It is a static/designed content like flashpoints and not randomized.
Available for our premium players only (subscribers).
They are currently faction specific but might be cool in the future to have cross-faction groups for them.
You are automatically placed into a queue when you click on the Uprising button in Galactic Command.
New 4 player content that is fast and action packed. Compared to flashpoints, it is story-lite and faster. Huge wave of enemies, giant bosses. Roughly 15-20 minutes of content.
Has 4 challenge modes (story mode for the easiest, veteran mode will be like Hardmode Lost Island, Master mode will be like Nightmare difficulty). Only story and veteran mode will come at launch, master mode will come soon after. Story mode is not solo content, we want to focus on multiplayer content. It will be like tactical mode in difficulty.
Power-ups available much like the ones in KOTFE story. They will be scattered around the level, some hiding inside crates.

Tempest Rocket Launcher – It is a rocket launcher
Thermap Devastator – Like thermal detonator, but more devastating
Combat Clarity – no cooldowns, unlimited resources, move faster.
Uprisings and Endgame
Coming with KOTET

Galactic Command
All new story and veteran uprisings
9 new chapters (25 total) with story and veteran difficulty. Your first playthrough of the story chapters will be the one where your choices are saved.
16+ player world bosses from dark vs light
all existing end-game content scaled to 70

Coming after Eternal Throne (more info in mid-late Nov)

Master Chapters (solo difficult content)
Master Uprisings (group difficult content)
These will be the toughest challenges balanced for the highest level gear in the expansion.
Additional group content planned as well, more to share in Jan of next year.
Stream Plans
Nov 3 – Galactic Command: Combat and class changes
Nov 10 – Repeatable chapters/difficulty levels
Nov 17 – New planets/story insights with Charles
Nov 23 – KOTET wrap up and Q&A
Galactic Command — Uprisings
Introducing Uprisings, a brand new combat experience that will launch with the Knights of the Eternal Throne expansion on December 2nd. Be at the center of action-packed 4-player battles that challenge players of all skill levels. Once you hit maximum level, you can jump into Uprisings through the Galactic Command interface, accessible from anywhere in the game. If you want to learn more about Galactic Command, head to our overview blog.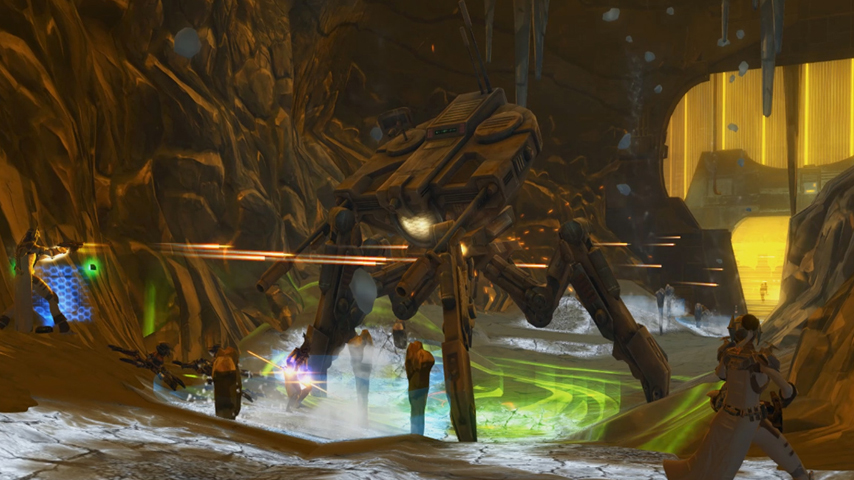 What is an Uprising?
What sets Uprisings apart from other activities such as Flashpoints and Operations? It's simple. Uprisings are meant to be faster-paced and action-packed combat adventures where you must fight through multiple enemies at a time as you work your way towards more challenging foes. In Uprisings, you will jump into the action quickly, taking on some of the most dangerous foes in the galaxy. Those enemies have spawned these Uprisings, questioning the very power of your Alliance.
With the launch of Knights of the Eternal Throne you can customize your level of challenge in any Uprising, choosing from multiple challenge modes including Story and Veteran. Veteran Uprisings will be among the most challenging battles in the game. If you can succeed, playing through a Veteran Uprising will be one of the greatest sources of Command Experience Points that contribute to your Command Level, allowing you to unlock increasingly more powerful gear, weapons and more.
As you're fighting through Uprisings, look for special power-ups located throughout the area to help aid you in your fight. These power-ups may include:
Tempest Rocket Launcher – Fires an unstable prototype missile that explodes on contact to unleash torrents of lightning in all directions. Enemies caught in the blaze are electrocuted and stunned for 3 seconds while continuing to sustain heavy damage. Additionally, the initial impact deals massive concussive damage, knocking enemies backwards and down to the floor.
Thermal Devastator – The most powerful and feared explosive in the galaxy, the Thermal Devastator emits an incendiary concussive wave that sets enemies ablaze. While the initial impact sears foes in an all-consuming conflagration, the follow-up wave of force launches them through the air with bone-shattering force.
Combat Clarity – For a brief period of time you will able to move faster and use your most powerful abilities with reckless abandon.
With these power-ups at your disposal, you should be able to dispatch any Uprisings that appear throughout the Galaxy.
Get ready to join your friends and guildmates in fast and challenging Uprisings!