Elder Scrolls Online is hosting the New Life Festival event from Dec 13 to Jan 2.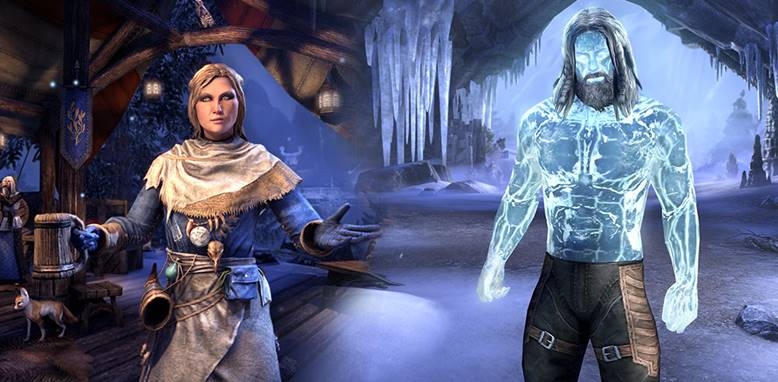 Earn bonus rewards, get double XP, and celebrate the end of the year in style during the New Life Festival. Learn about all the quests, collectibles, Achievements, and more you can enjoy during this end-of-year event!
THE FESTIVAL RETURNS
The New Life Festival begins this Thursday, December 13, at 10:00AM EST and will run until Wednesday, January 2, at 10:00AM EST. If you'd like to take part in the festivities, pick up the New Life Festival Scroll from the in-game Crown Store and use it to find the New Life Herald, Breda, located south of Windhelm, Eastmarch.
Share a mead with Breda, the New Life Herald
Complete the initial quest titled "The New Life Festival" to unlock a host of New Life-themed and festive daily quests (nine in total) that have you bring cheer to every corner of Tamriel. Once you've completed your first New Life Festival quest, you'll also have unlocked the Breda's Bottomless Mead Mug collectible, which, in addition to greatly improving the mirth of those who imbibe, provides a two-hour, 100% boost to XP gains during the event period. This boon will stack with any other XP bonuses your character currently has, including those from XP scrolls or ESO Plus membership.
RECEIVE GIFT BOXES
By taking part in the New Life Festival and completing the Herald's quests, you'll earn New Life Festival Gift Boxes. These celebratory containers house random items, including crafting materials, consumables, and style items. If you're fortunate, you might also receive one of these rarer rewards, too:
Skinchanger Motif chapters
New Life recipes
New Life collectibles (packaged in Runeboxes and tradeable):

Sword-Swallower's Blade memento
Juggler's Knives memento
Fire-Breather's Torches memento
Mud Ball Pouch memento
Nordic Bather's Towel costume
Colovian Filigreed Hood hat
Colovian Fur Hood hat

A selection of lights, lamps, and lanterns for your home to celebrate the Signal Fire Sprint
Draughts of Stealth and Escape to celebrate the Trial of Five-Clawed Guile
New Life Charity Writs
In addition to the above rewards, New Life Festival Gift Boxes can now also include New Life Charity Writs! These new, event-exclusive writs task you with creating simple furnishing items to donate in the spirit of the season. Once you've completed one of these new writs, you can turn it in to any writ return location for its item type. If you don't have the recipe required to craft the writ, visit the relevant crafting vendor to pick it up.
Of course, performing this good deed is its own reward, but in addition to a philanthropic sense of satisfaction, if you complete 12 Charity Writs on a single character, you'll unlock the "Newly Charitable" Achievement, granting you the incredible Crystalfrost skin!
The Crystalfrost skin
BRING NEW LIFE TO YOUR HOME
Starting December 13, you can turn your house into a festive holiday home with exclusive furnishing items from Heralda Garscroft, the Holiday Achievement Furnisher. You can find her in Grahtwood, Stormhaven, and Deshaan. Here's how you can unlock these uniquely merry furnishings:
The New Life Bonfire – Available for 10,000 gold once you complete the "Snow Bare Plunge" achievement
The New Life Celebrant's Standard – Available for 2,500 gold once you complete the "New Life Celebrant" achievement
Check the Achievement section of your Journal to review progress.
GET YOUR FINAL INDRIK FEATHER & BONUS SWEEPSTAKE ENTRY
During the event, you can also earn Event Tickets and purchase the final Indrik Feather required to unlock the Nascent Indrik mount (along with a #OurElderScrolls Sweepstakes bonus entry). This event's feather is called the Opaline Indrik Feather.
To earn Event Tickets during this event, simply complete one of the nine New Life Festival daily quests. In addition to the New Life Festival Gift Box, you'll receive one Event Ticket. Note that you can earn only one ticket per day per account, and they'll reset at 1:00AM EST each morning.
Get the last Indrik Feather to unlock this beautiful mount
Once you have acquired 10 Event Tickets, you can trade them in to the Impresario (located at a special booth in Daggerfall in Glenumbra, Davon's Watch in Stonefalls, and Vulkhel Guard in Auridon) for the Opaline Indrik Feather. You can acquire 20 Event Tickets during this event, and the Impresario will continue to sell all previous Feathers throughout, meaning if you've missed some, you have a chance to catch up during the New Life Festival! For more information on acquiring the Nascent Indrik mount, check out our announcement article.
As with previous events, you can earn bonus entries into the #OurElderScrolls Sweepstakes by acquiring Indrik Feathers. For your chance to win amazing prizes, including a Grand Prize trip to BE3 2019, make sure you've entered by filling out this form. For more information and official rules, visit the #OurElderScrolls page.
Finally, in addition to your Event Ticket, when you turn in your first New Life Festival daily quest, you will also receive a Mysterious Reward Box. Originally part of the earlier Undaunted Celebration, these boxes have a chance to include rare styles and collectibles.